Well Planned Day Planners
HELPING MOMS AND STUDENTS STAY ORGANIZED
As a homeschool mom juggling five kids, school, home, and community activities, I struggled keeping everything in one place. I had a planner for homeschooling, sticky notes for chores, a wall calendar with activities, and the back of an envelope for shopping lists. I needed a little consolidation help.
I created the Well Planned Day Family Homeschool Planner over ten years ago as my go-to planner that kept everything in one book and had shopping lists! As my kids grew, I saw the need for student planners that also kept everything in one place like assignments, chores, daily routine, and practices.
As my homeschooling journey continued, I developed the High School 4 Year Plan, a high school planner, and then a college planner. With the kids using their own planners during the high school years, I finally created a planner based on my original concept, but without the homeschooling features. The On The Go purse size planner is my brain on paper.
We all have different families and needs, so I've created different planners along with different styles to help your family get more accomplished through planning each day.
Save 30% on Well Planned Day Bundles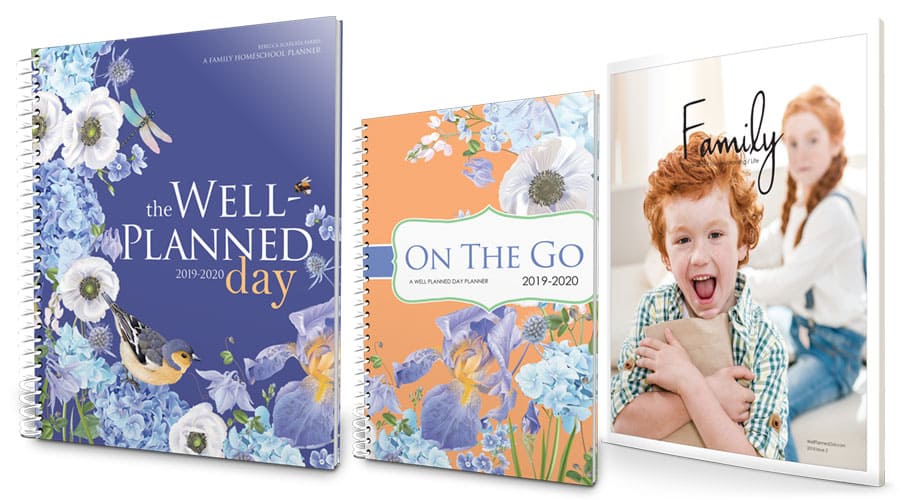 PLANNER BUNDLES
Find encouragement on this homeschool journey and save money when you purchase one of our Well Planned Day bundles! Each bundle is created to meet a specific need. Keep home and school or daily prayer organized and the family well informed with the Homeschool Mom and Prayerful Mom bundles. Choose one of the Teacher Student bundles to help you teach time management skills to your middle schooler. Or balance your own management of home and on-the-go life with either of the Busy Mom bundles.
When you select the bundle that best matches your family's unique needs and circumstances, you'll also receive a one-year subscription to Family Magazine. In each issue, you'll find encouragement for parenting, marriage, and homeschooling from fellows moms who truly understand this journey you're walking. Practical tips and resources make Family Magazine the perfect companion to your planners. So, choose your bundle today!


2019-2020 Well Planned Day Planners
Well Planned Day
Family Homeschool Planner
This planner keeps everything for a homeschool mom in one place. Plan dinner menus, organize school assignments for up to 4 kids, schedules chores, and maintain the family calendar.
A beautifully designed, fully dated 12 month planner for July 1, 2019 - June 30, 2020.
$29.95
On the Go
Busy Mom Planner
For any gal who juggles daily task lists, appointments, dinner, and errands. This planner keeps busy moms on schedule and has space for money management, special projects, and plenty of note space!
A gorgeous purse size planner fully dated July 1, 2019 - June 30, 2020.
$19.95
Save 50% On Current Planners
It's never too late to start planning! If you're new to Well Planned Day, with these big savings, it's a great time to try them out.